Our Services
Water Bores
We cover large and small diameter holes for:
Stock
Domestic - houses
Irrigation - watering vineyards, olive groves
Town water supplies
Bungendore Water Bores drill 200mm (8") diameter holes and supply and install 150mm (6") diameter casings. All holes are gravel-packed and developed. When the new pump is installed, clean water is pumped, meeting and exceeding Australian standards.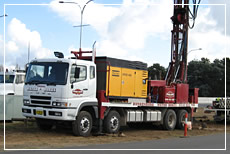 Prior to commencement of drilling, Bungendore Water Bores provide Licence forms and bore completion forms for Department of Water and Energy. Pump testing of bore and advice on pump requirements can be organised.